December 20, 2019
Athens Council unanimously supports school consolidation
The Athens City Council has put its full support behind a plan to consolidate the city's elementary schools.
At Tuesday's meeting, years of discussion culminated in a 5-0 vote of the Council to approve a phased plan to combine the city's four existing elementary schools onto a single campus at the current site of City Park Elementary School.
Council Member John Coker's motion to pass a resolution supporting the building program was seconded by Council Member Dick Pelley. With the motion for approval on the floor, discussion began.
"Athens City Schools are very significant to our city in so many ways and I'm so glad we are moving forward on this," said Vice Mayor Bo Perkinson.
The terms of the resolution included a commitment by the Council to release $1 million it had previously set aside to the school system to aid in funding the design of the building project; affirmation that $1 million per year of new revenue collected from a sales tax referendum held earlier this year will be put toward debt service on the school building program; and the drafting of a legally-binding agreement that the city will recover annual cost savings from the school system as a result of the consolidation, which will also be put toward debt service on the school building program.
The remainder of the annual loan payment will come from an increase in the city's property tax rate — an 8-cent property tax rate increase to support a loan of $30 million in 2021, and another 12-cent increase in the property tax rate, which is expected to fund another $20 million loan in 2026.
The plan also includes a third phase to make improvements at Athens City Middle School around 2030.
The resolution advised that the school system's architect should complete the design of the entire project — Pre-K through fifth grade — including site work, traffic control, and infrastructure. Bid documents will be drawn so bidders may submit a bid for the entire project, as well as an alternate bid for Phase I, which is limited to the site work and construction of the Pre-K through second grade portion of the consolidated school and some common areas.
A key portion of the resolution read, "The Council desires that the construction of the 3rd grade through 5th grade portions of the project (Phase II), which has been estimated to cost $20,000,000, be delayed until construction is economically feasible, currently believed to be approximately the year 2026."
During Tuesday's discussion, Pelley made a motion to amend this portion of the resolution by replacing the words "is economically feasible" with "of Phase I is completed." Council Member Mark Lockmiller seconded Pelley's motion to begin discussion of the proposed amendment.
"We want it to be done and we don't know what other Councils are going to do. In 2026, many of us may not be on the Council," explained Pelley. "What we want to do is put in here that if Phase I is done, let's move on. If people don't want (Phase II) to happen, then they can very effectively create, 'Oh, it's not economically feasible.' We take that out and this precludes anything like that happening."
"We came up with this proposal to vote on tonight in our study session last week," said Coker in response to Pelley's motion. "Changing this one line Dr. Pelley is wanting to change is moving backwards to where we were before. … We have a viable plan and a plan that is economically feasible for the whole community to be able to afford to do, but changing this last line is changing the whole scope of this whole project."
Pelley said his amendment would be a means of "protecting the process and making sure the process goes forward."
Perkinson felt the amendment could delay the start of Phase II construction.
"My wish would be that we be able to accelerate and get to Phase II even faster than what we've got outlined here," he said. "When you say that Phase I has to be finished first … it does say we can't start Phase II, if we approve that amendment, until Phase I is finished."
Perkinson asked City Manager C. Seth Sumner to give his assessment of the proposed amendment
~~~~~~~~~~~~~~~~~~~~~~~~~~~~~~~~~~~~~
Dec 19, 2019
Arts Center announces offerings as the calendar turns to a new year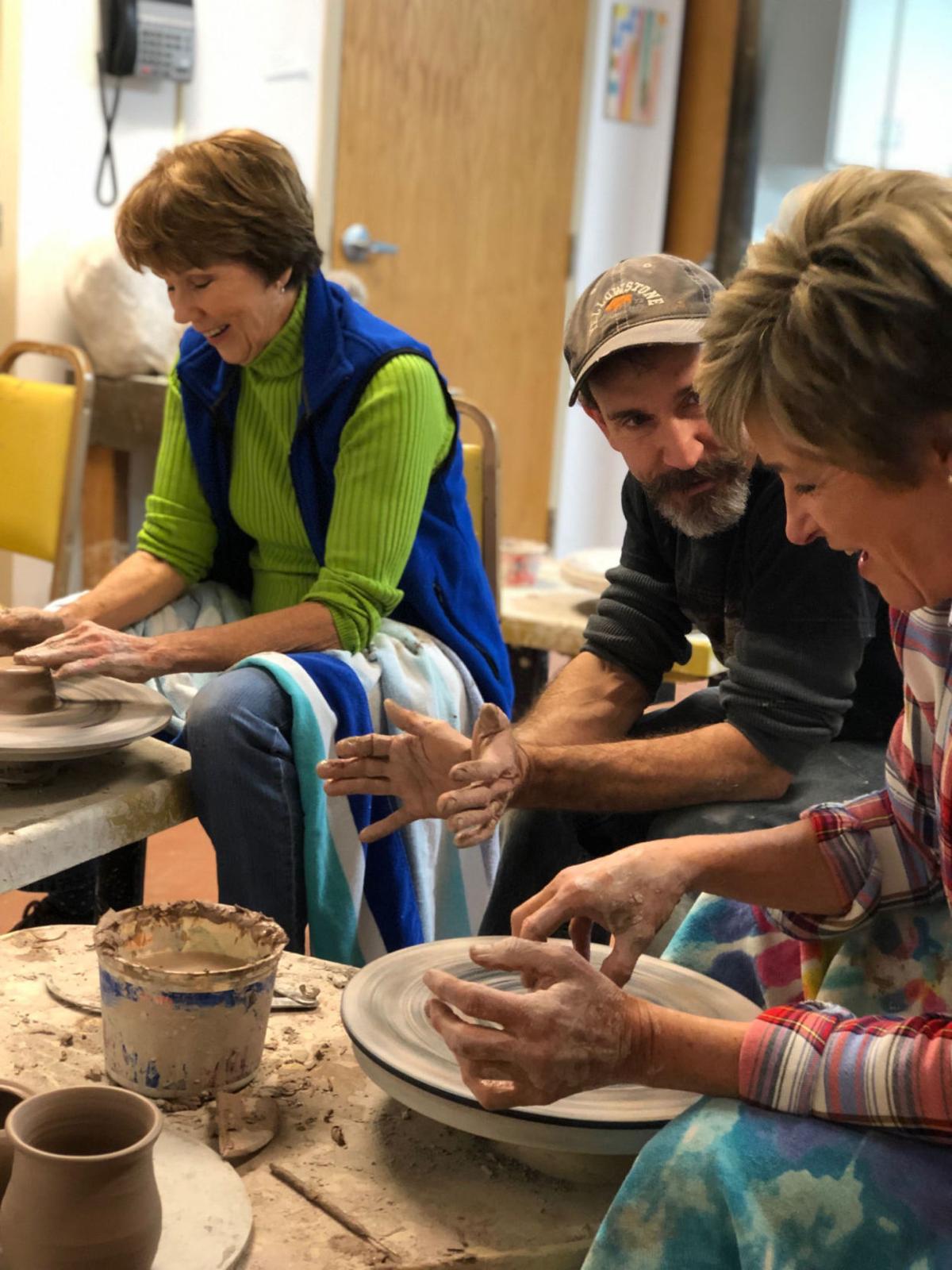 Shown here is a child at one of the classes at the Arts Center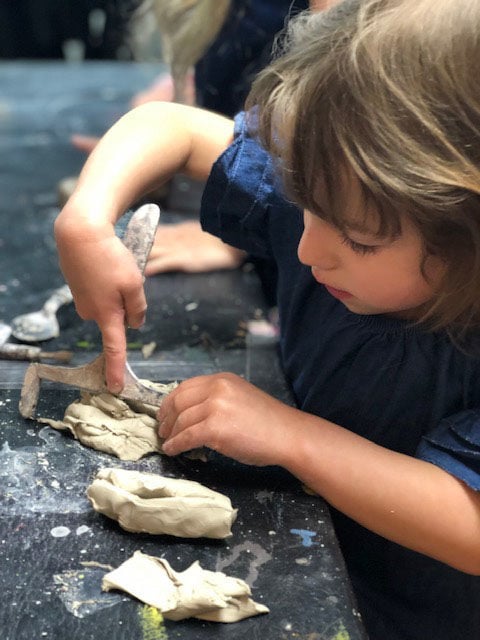 Registration is now open for AACA Winter 2020 Art Workshops and classes for all ages.
Athens, TN–Athens Area Council for the Arts has announced registration for arts workshops, seasonal sessions and activities for students of all ages. Participants may register now for classes that take place this winter. Unless noted otherwise, the registration deadline is three business days before class starts.
The Arts Center offers a variety of arts experiences for youth.
Second Saturdays Artsplorations continues Jan. 11, 2020 from 11 a.m. to 2 p.m. Artsplorations occurs each month on the second Saturday, September to May, except April and is for ages 3-11. The instructor and art activity varies each month with students having the opportunity to participate in a variety of visual and performing art activities.
RSVP is encouraged via phone or email to [email protected], but everyone is welcome to join even if not preregistered.
"We are excited to be able to offer so many unique classes for students of all ages and experience levels," said Lauren Trew, Arts Center program coordinator. "We have been hearing what they are interested in and we are looking forward to presenting these opportunities to the community."
Monday, Feb. 3, 2020 will be the first evening in the new year of the popular teen arts program, "The Studio," from 5 p.m. to 7 p.m. for ages 11-17. The Studio occurs each month on the first Monday, October to May (except January).
The program is free and includes materials and pizza. RSVP is encouraged, but registration not required. Sponsorship support for The Studio comes from Tennessee Wesleyan University.
Mandie Watters Cox will be leading students in a mixed media activity for both the January Artsplorations and the February Studio classes.
Cox is from Etowah and she is currently a senior fine arts major at Tennessee Wesleyan University. She has an interest in multimedia sculpture. She enjoys sculpture because she believes it embodies multiple elements of art to create a piece.
Cox has been teaching classes at Athens Art Council for over five years and enjoys sharing what she has learned to help others create.
Winter workshops for all ages at The Arts Center are underway as well.
Drum Circle on Saturday, Jan. 11 from noon to 2 p.m. for ages 16-adult. Tracy Gartmann, a trained Health Rhythms Facilitator, will lead students in an interactive Drum Circle, which is a multi-faceted program designed to facilitate health and wellness. This type of workshop is research-based and has been shown to boost immunity and improve the mood.
"Drumming is one of the oldest and easiest forms of music-making, often used to create community and belonging," Gartmann said. Cost is $30. All materials are included.
Watercolor Workshop with Sandy Brown will start on Thursday, Jan. 16 from 5 p.m. to 8 p.m. Brown holds a degree in art from Northeastern Illinois University and has done post-graduate work in Studio Art and Art History at Northern Illinois University.
An award-winning watercolor and mixed media artist, her work can be found at Reflections Gallery/Chattanooga, 5 Points Museum/Cleveland, Wall Candy Gallery-Framing/Columbia, and AACA. Brown is a signature member of the Tennessee Watercolor Society.
This workshop, titled "Creating Visual Impact in Our Watercolors," is for students ages 16-adult. The cost is $45 and a materials list will be provided to registered students.
Jewelry Making Workshop is set for Tuesday, Jan. 21 from 6 p.m. to 8 p.m. and is a one day class for all levels, ages 16 and older, where students will create a piece of unique stamped jewelry with AACA's Resident Artist, Jessica Klaaren.
Klaaren began making jewelry as a hobby. After winning design contests and becoming a featured designer for Vintaj Natural Brass, she's had her jewelry featured in TV shows, celebrity swag bags, magazines, and has been accepted into The Artisan Group, an elite juried artist group. Her signature style uses unique materials, handmade beads, and premium Swarovski crystals. The cost is $30. All materials are included.
Stage Makeup Application will be led by Annette Dufty for ages 16-adult on Thursday, March 5 from 6 p.m. to 8 p.m. Dufty will demonstrate and lead students in basic as well as specialized stage makeup application techniques.
She has performed in professional and university productions including The Mikado, Sweeney Todd, Guys and Dolls, and Cats, among others. She studied theatre at UT Knoxville and has experience in directing, set design and building, and costume design.
Athens Community Theatre audiences will recognize Dufty from her recent roles as Grandma Addams in The Addams Family and Jacob Marley in A Christmas Carol.
Winter seasonal classes for all ages at The Arts Center:
Andy Phipps received a BFA in Ceramics and Sculpture from Northern Arizona University. He has taught art courses at Bucks County Community College in Pennsylvania.
Phipps has taught various classes at The Arts Center for many years and is a favorite with students of all ages. He works as an artist and craftsman creating sculptural and functional pieces from custom woodworking to stained glass, metal working, ceramic and any combination of these.
Phipps' Art Class will meet on Tuesdays from Jan. 14 through Feb. 18 from 11 a.m. to noon. Phipps will lead multi-media art classes that meet homeschool fine arts curriculum requirements.
~~~~~~~~~~~~~~~~~~~~~~~~~~~~~~~~~~~~~~~
Dec. 18, 2019
Volunteers from across the area came together to help local residents out this Christmas season.
On Monday, Friendly Fellow Club members and volunteers worked together to load boxes of various food items for residents of McMinn County.
Over 150 volunteers gathered at the National Guard Armory in between Athens and Etowah to begin preparing the Christmas food boxes for pick-up on Tuesday.
"We have over 400 boxes prepared," said a friendly fellow volunteer.
Upon entering the preparation site, many volunteers could be seen on the assembly line loading food into the boxes.
Boxes are usually packed in less than an hour by the determined and passionate volunteers.
"We've got it down to a science," noted another volunteer.
People from every age group show up each year and work together to give to families in need.
This marks the 80th year that the Friendly Fellow Club has conducted the giving of the Christmas boxes and it has become a tradition for the community.
Friendly Fellow operates under a complete volunteer board and every dollar goes toward local families.
~~~~~~~~~~~~~~~~~~~~~~~~~~~~~~~~~~~
Dec 17, 2019
You see what Georgia is doing. Everyone check your voter registrations now. 
Govotetn.com
Georgia: federal judge allows state to proceed with mass voting rolls purge
Judge also scheduled hearing for more arguments on the matter
Stacey Abrams's group had filed emergency motion on Monday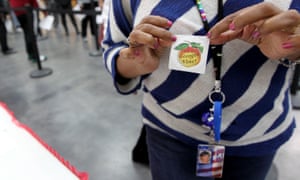 A federal judge is allowing Georgia to proceed with a mass purge of its voting rolls planned for Monday evening, but he also scheduled a hearing later in the week to hear more arguments about the matter.
A voting rights group founded by the Democrat Stacey Abrams had filed an emergency motion on Monday, asking a court to halt the plan.
The motion was filed by Fair Fight Action in US district court, hours before the secretary of state's office planned to begin the purge of inactive voter registrations.
But the decision by the judge was to allow the action to go ahead after a lawyer for the state assured him that if the judge finds later that some people should not have been removed, they can be easily and quickly reinstated.
In October, the secretary of state, Brad Raffensperger, released a list of more than 313,000 voters whose registrations were at risk of being canceled, about 4% of registered voters in Georgia. Those voters were mailed notices in November and had 30 days to respond in order to keep their registration intact.
Walter Jones, a spokesman for the secretary of state, said the purge was planned for overnight Monday into Tuesday. He said the exact number and names of voters removed would not be known until then and that more information would be made available later.
Voter purges in Georgia became a hot-button issue during last year's race for governor between Abrams and the Republican Brian Kemp, who won. Kemp was secretary of state and oversaw aggressive voter purges during his tenure. More than 1.4m voter registrations were canceled in Georgia between 2012 and 2018.
While some of the people removed from the rolls had moved or died, others were removed for simply not voting in several election cycles.
"The list of inactive voters is composed of people who did not respond to notices sent to them because they had either filed a change of address form with the US Postal Service, had official election mail returned undeliverable or who have not had contact with the election system for three years," the secretary of state's office said in an online description of the removal process.
"Although these people failed to respond to that initial notice, they still remained able to vote normally for two additional election cycles equal to four years, but their registration will be canceled if they fail to respond to the notice mailed to them … or had other contact, such as voting, signing a petition or changing the address on their driver's license."
Critics of the policy say government records on inactive voters can be incorrect and argue a citizen should not be removed from the rolls just for deciding not to participate.
Election officials counter that the list maintenance makes the administration of elections smoother and helps guard against voter fraud.
~~~~~~~~~~~~~~~~~~~~~~~~~~~~~~~~~~
News Brief
12-16-19
The Southeast Tennessee Human Resource Agency will be distributing USDA commodities to eligible McMinn County residents on Thursday, Dec. 19, from noon to 4 p.m., at the National Guard Armory in Athens.
Participants must already be signed up in order to receive commodities on this day. Participants must provide proof of income for all household members or proof of category eligibility to get a commodity card.
Eligibility will be based on total household income not in excess of the state-established maximum percentage of the poverty line for the appropriate household size or category eligibility.
Call the McMinn SETHRA office at 745-8095 to sign up for the next commodity giveaway after Monday, Jan. 13.
In accordance with federal law and USDA policy, SETHRA is prohibited from discriminating on the basis of race, color, national origin, sex, age or disability.
~~~~~~~~~~~~~~~~~~~~~~~~~~~~~
12-16-19
Etowah officials hope to progress with pool, city hall in the new year
 The year 2020 starts a new decade and several towns have plans in place for the new year. One town in particular that is expecting to have some new additions in the new year is Etowah.
"It's been a busy year," said City Manager Tina Tuggle. "City hall construction is underway and the restoration of the depot windows are just some of the things on our list. It's been a full year."
Plans are being made to have the restoration of the depot windows completed at the beginning of the new year.
The City of Etowah has worked with the Etowah Historical Commission and Southeast Tennessee Development District (SETDD) Preservation Planner Melissa Mortimer to oversee the project.
The city previously applied for and received a $45,600 grant to help pay for the project.
"The Etowah L&N Depot, completed in 1906, is significant for its role in the founding of and the history of Etowah," Etowah Historical Commission Chairman Jim Caldwell said at the time of applying for the grant. "This grant would encourage the preservation of historic windows while eliminating the potential for vinyl replacement windows that would adversely affect the architectural integrity of the historic L&N Depot."
Etowah's plans for installing a new community pool are also projected to come to completion in the year 2020 as well.
Through a combination of financing sources — including a Local Parks and Recreation Fund grant, city funds and money from an anonymous donor — the city is working on getting construction on the pool started.
The community swimming pool has been closed since 2010 and the new city pool could be right around the corner in the upcoming year.
"We want to have a community pool finished and open not just for us, but for others too," mentioned Tuggle.
The pool will be located at the intersection of 6th Street and Louisiana Avenue, beside the splash pad.

Athens consolidated school opening to be pushed back a year?
During Monday's regular Athens City School Board meeting, Athens Director of Schools Dr. Melanie Miller said the possibility exists that the planned consolidated elementary school may not be able to open until 2023.That would mark a one-year delay from the original hopes of school board members.
Miller had previously hoped to get the project started in September, but discussions over the funding mechanism of the school has delayed that.
"We should have been in design development in September in order to make the 2022 date," Miller said. "We are nowhere near that September start date."
Conversations have continued between the school board and Athens City Council over funding for the school and the latest discussions have centered around whether to build the school all at once or use a phased approach.
Miller said she recently spoke with the architect on the project who gave her a couple of options to be able to meet the 2022 deadline.
One option would be to move in to the newly-built school in mid-year, while a second would be to bid out site construction separately.
"We would bid that out early on the front end while still developing bid documents for the entire building," she said.
However, Miller couldn't recommend either of those options to the board.
"Both of those concern me," she said. "I've been involved in a situation where you move in during Christmas. It's totally disruptive to your children and you lose a lot of instructional time."
As for setting up two different bids, Miller said that could lead either to legal issues that would make the entire project last longer or potentially higher costs.
"If one construction company gets that bid and another construction company gets the building, when there's a disagreement between what one company does and another company follows, we can get in legal quandaries," she said.
She added that a personal experience highlighted the issues that could come from that strategy.
"We hired somebody to put up sheet rock, hired somebody else to finish it and then we paid a lot more money to the people finishing the sheet rock because they said the people who put it up did not do it the way they should have," she said. "If we bid out site construction and got the site prepared and then did the building, if the company who gets the building starts digging and then says 'hey, wait a minute, this is not quite right,' we have two options. We can go the legal route that puts us on hold or pay extra money to complete it and we eat up our contingency."
That led Miller to the conclusion that the 2022 goal may not be feasible.
"It might be time to say our best move-in date might be fall of 2023 instead of 2022," she said. "That might be something to start really thinking about."
However, she said that's not set in stone at this point.
"That's just me talking," she said. "I've never seen a building project that was ahead of schedule. I'd rather move in fall of '23 than Christmas of '22."
The plan for the consolidated school is to combine the current four elementary schools — City Park, Westside, Ingleside and North City — into one large school at the current site of City Park.
Miller said that City Park would likely need to be torn down in the process.
"We've got to have time to get City Park down," she said. "We need an eight-week window to get that down."
~~~~~~~~~~~~~~~~~~~~~~~~~~~~~~~~~~~~~ 
Athens Council to vote on a phased plan for school construction
On Nov. 26, the Council officially received the Athens City School Board's detailed plans and cost estimate for the project, which would combine the city's four existing elementary schools onto a single campus at the current site of City Park Elementary School.
The School Board request was for $47 million to fund construction of the elementary school, as well as modifications and improvements to the surrounding roadways. It requested an additional $3 million to address current and future needs at Athens City Middle School (ACMS), for a total of $50 million.
Annual funding already committed to debt service for the project currently stands at $1.7 million — a combination of sales tax revenue and $700,000 in anticipated yearly savings from the school system. The remainder of the annual payment will come from an increase in the city's property tax rate.
At its study session on Monday night, the Council discussed an alternate plan for school construction. City Manager C. Seth Sumner began discussion with a presentation about the economic demographics of Athens and details of the phased construction and funding plan.
Sumner noted that the consolidated school would actually be comprised of two schools — a grade split between Pre-K through second grade students and third through fifth grade students.
"We're not building one school," he said. "We're looking at doing two schools at one time. That's why it's twice as much as what a normal school being built anywhere else in the state is costing."
Sumner said the city must be mindful of the national economy as it plans to fund the school consolidation project and the other services it provides.
"We're long overdue for the next recession — the next downturn," he said. "We've got to be very cautious of that because of how hard our community in particular was hit in the recession (of 2008)."
Sumner then noted median household incomes, based on 2017 Census numbers. The median household income for the country was $57,652, while the median income in Tennessee was $48,708. The median income in Athens was just $31,177.
"As Athenians, not only are we poorer than our American cousins; we are poorer than our Tennessee cousins," said Sumner. "We are a poor community that is not represented very well in this room. We're all blessed; let's count our blessings. We've got to take care of our people."
Sumner noted that, of Athens' 7,000 property taxpayers, the top 10 pay 35% of the total collected each year. That count includes industries and businesses.
He also pointed out that, of Tennessee's 141 school districts, Athens City Schools' student population has the fourth highest rate of poverty.
Sumner then laid out a phased alternative to the school system's proposal.
In phase one, the $1 million of annual sales tax revenue would be combined with $150,000 per year in saved expense from the school system and an 8-cent property tax rate increase to support a loan of $30 million in 2021. This would fund the portion of the consolidated school with frontage along McMinn Avenue.
Phase two would continue to utilize the $1 million in annual sales tax revenue, while adding the remaining $550,000 in annual school savings and another 12-cent increase in the property tax rate, which is expected to fund another $20 million loan in 2026. This would fund the remaining portion of the consolidated school with frontage facing ACMS and, when completed, would achieve the goal of combining all city elementary schools on a single campus.
~~~~~~~~~~~~~~~~~~~~~~~~~~~~~~~~ 
COMMUNITY NEWS YOU CAN USE:
 The United Way of McMinn & Meigs Counties is on track to
reach this year's fundraising goal thanks to the community's support. This week, the campaign will surpass the $500,000 mark
from donations and pledges from individuals and businesses. The
goal is $720,000.
 Edward Jones in Athens is serving as a drop-off point
for food donations to the Chattanooga Area Food Bank. If
you would like to help, bring canned goods and staples to
the Edward Jones office, at the corner of White Street and
Madison Avenue in Downtown Athens between now and
December 13th.
 The Good Faith Clinic will be open today, Dec. 10th, at 2:30
p.m. at the Christ Community Church campus, 18 S. Congress
Parkway. The clinic provides free basic medical service for uninsured residents of Meigs and McMinn counties.
~~~~~~~~~~~~~~~~~~~~~~~~~~~~~~
Athens seeks state approval to levy hotel tax
The Athens City Council unanimously approved a resolution last month to ask the Tennessee General Assembly to exempt Athens from code provisions that currently do not allow the city to levy an occupancy tax. The relevant code prohibits a city from levying such a tax if the county in which it is located has already levied the same tax. McMinn County does currently assess a 5% occupancy tax — commonly referred to as the Hotel-Motel Tax.
The legislature has previously issued exemptions to other state municipalities. According to its resolution, if Athens receives this exemption when the legislature considers the request after it reconvenes in January, the city will utilize the money for tourism development.
"Their worry is of setting too high of a tax rate and making our businesses or hotels not competitive in the market," said Sumner of the rationale behind capping the potential Athens occupancy tax at 3%.
If the exemption is granted by the state, the Council would then consider two readings of an ordinance to make the occupancy tax effective.
"This would not be to replace or supplant anything that the county is doing," said Sumner at last month's Council study session. "We want the county to do what (it) feels is right and best."
Sumner has spoken with McMinn County Mayor John Gentry about the city's potential pursuit of its own occupancy tax.
If Athens is ultimately able to levy the tax, it would be in addition to the tax already in place with the county. This would bring the total occupancy tax for stays in hotels within the Athens city limits to 8% — 5% levied by the county and 3% by the city. The City of Etowah already has in place an occupancy tax of 5%.
Sumner noted tourism assets within the city limits such as Mayfield Dairy and the McMinn County Living Heritage Museum.
"We have a lot of assets that we're not able to properly market," he said. "We have incredibly valuable assets that need a revenue stream to be able to promote to bring more people in here. When we start doing that, we grow all of our businesses' revenues. It's an investment that needs to be made and properly managed by an authority."
~~~~~~~~~~~~~~~~~~~~~~~~~~~~~~~~~~~~~~~~
Program strives to provide coats for children during winter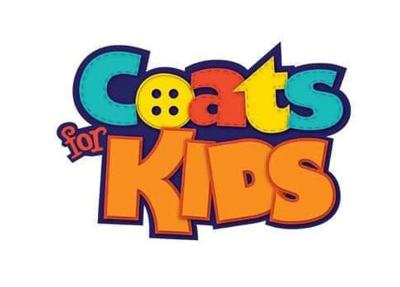 The Coats for Kids program is in full swing and donations are being accepted now. Coats for Kids is an event that happens annually to bring coats to local children who might not have them during the winter season. Tina White was encouraged to join the event when she saw what it could do firsthand.
"I saw this little girl walking with no coat on in the middle of winter and it just surprised me," said White. "I called the schools asking why and I was notified that some kids don't have coats to wear."
That's when White knew she had to join with Coats for Kids to help children in the area.
Donations can be made to White by bringing the coats to Booster's on Ingleside Avenue in Athens.
"Ten coats were donated by one individual and it's very nice to see," said White. "Our goal is to get 100 coats."
These coats will be taken to locals schools and distributed by teachers to the students who are in need of a coat for the season.
This is White's first year participating and she said she hopes to get enough coats for the kids.
"Many people have even come by and left coats hanging on the doors and we will see them in the morning," said White.
Coats for Kids is not the only charitable drive White is putting together, either.
She added that she hopes to have a shoe drive next for locals kids in the community. Anyone looking to donate can contact White at eat [email protected] or drop off the coats at Boosters in Athens.
"There's a need for this," said White.